---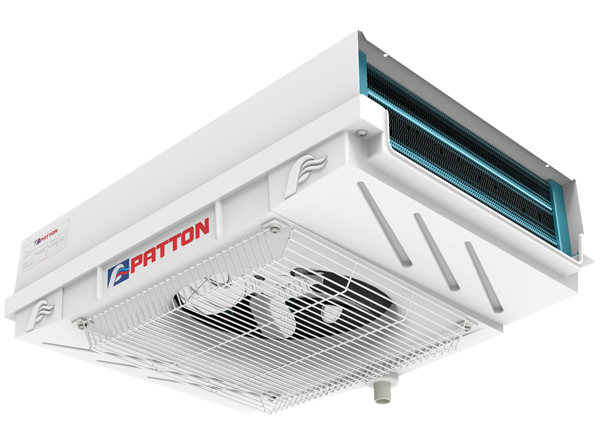 "TC" Series Dual Discharge Cabinet Coolers.

Ideal for small glass door cabinets, bottle display units and small walk-in coolroom applications utilizing refrigerants R404A/R507, R22/R407C and R134a. Particularly advantageous where room is at a minimum. All "TC" Series unit coolers are standard with "Patton Coat" protection on fins.

• Medium temp cabinet coolers
• 7 Models (TCM)
• 1 fan (254 & 300mm Ø) 50/60 Hz
FEATURES
• Extremely low profile design provides maximum clearance space for products.
• Easy clean white colour steel case and fresh white ABS drain tray.
• Drain tray (reversible) removes easily for service and cleaning.
• Forced draught shaded pole fan motors.
• 3/8" Rifle bore tubes for optimized coil performance.
• Venturi liquid refrigerant distributors, larger models, for maximum versatility of refrigerants, and operating range.
• Factory applied blue "Patton coat" coil protection.
• Fans factory wired to connection strip.
APPLICATIONS
Ideal where a centre mounted unit is required the "TC" Series is the perfect solution where space is at a premium. Best suited to small cabinet coolers and glass door displays but also viable in wine storage rooms and small box cool rooms. Additionally suited to application in mobile trailers or transport. The clean low profile design boasts great efficiency whilst taking up minimum space to give you more room for your product.
DATASHEET DOWNLOAD
| | |
| --- | --- |
| TC Series  | |